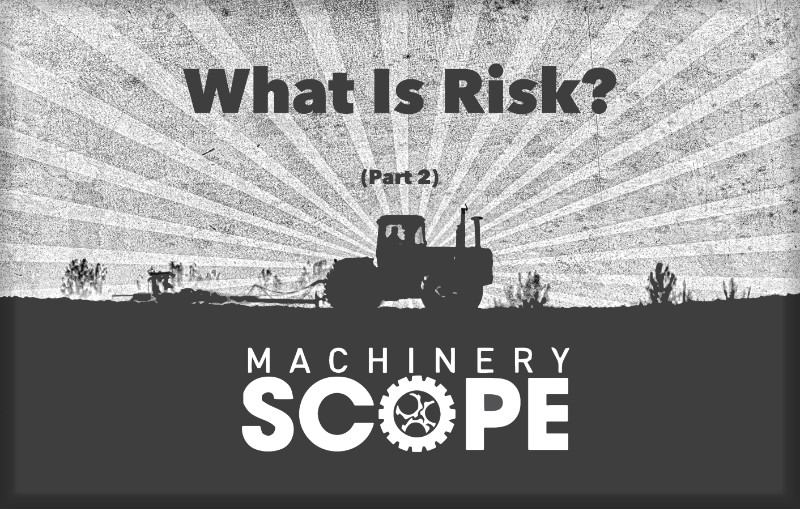 Now that we have discussed what risk and how to manage it, let's take a closer look at industry trends and a few examples of tools available to producers to mitigate risk.
Risk and Industry Trends
The Ag industry generally strives to reduce risk. However, there are emerging information gaps within the Ag equipment industry brought about by both increasingly complicated technology as well as in the endless resources provided to us by the Internet.
These technological advancements have increased production and saved time, but they also have made it harder for farmers to be able to know and service their own equipment, therefore creating additional risk. Here are 2 ways that advances in technology add substantial risk to farming operations.
Online equipment purchases are more prevalent than ever. Most dealers and auction companies have their own website or utilize an online resource like Fastline to list their equipment. This has allowed farmers to locate the equipment they want at any distance. Often these types of sales are between two strangers, and unlike buying equipment off a local dealer lot; these sellers do not expect repeat business. They are only concerned with moving that product off their lot. In other words they do not have any skin in the game if something were to go wrong, leaving the producer at an increased risk of having to foot an expensive repair bill. It is a "buyer beware" market. It is difficult to differentiate quality equipment from worn out equipment.
The landscape of farming is changing, which has caused producers to become much more business-minded and equipment to be more complicated than ever before (e.g. Tier IV engines, electronics). Farmers may lack the knowledge, proper technology, desire, and/or time it takes to assess the quality of the equipment that they own or are looking to purchase. These are major factors driving up the cost of repairs. With every new feature that is added to your equipment, there is potential for it to fail, which in turn increases risk.
Risk Mitigation Tools
As the industry changes, new information gaps are emerging. In their wake, important advances in risk management services have also been developed.
Machinery Scope is on the cutting edge of risk management solutions for agriculture equipment. We have advanced programs that minimize risk and fill in the information gaps that can cause it. Some of these resources include inspection reports, more inclusive equipment protection plans (also known as extended warranties), and equipment appraisals.
Inspections reports are a good resource to utilize for avoiding risk. Often times there may be an inspection that has been performed on the equipment, but may not be made readily available or may have been performed by a party with an interest in getting the sale. Because of the complexity of the equipment, the distance at which farmers are buying from, and the lack of knowledge, desire, or time to assess the quality of the equipment, you can mitigate your risk by employing a third party non-biased company to perform a thorough inspection. It is important to be aware of equipment that is not quality or does not have all the options you are paying for.
Equipment protection plans can aid in transferring the risk that is involved with purchasing qualifying equipment. It should not matter if you are purchasing new or used equipment or if the equipment is from dealer lots, auction companies, or private parties. There are a multitude of options in the industry to protect your equipment investments from the all too expensive failure. When making decisions on lending for agriculture there is a lot to consider. If the borrower cannot or does not want to absorb the risk of an equipment investment, an equipment protection plan to cover the length of the loan or lease should be considered so no one gets stuck with a piece of equipment that drains cash reserves.
Equipment appraisals are a good tool to aid in farm management decisions. The options on equipment can greatly affect its value. It can be very difficult to assess the value of the equipment if there is a lack of equipment expertise. An accurate value on equipment in a farm operation can be used in the decision making process as to how much risk an operation can absorb and to what level there needs to be some risk management incorporated to maximize profit. Accurate equipment values can be utilized to leverage other areas of the farm operation also.
Here is an illustration of the importance of knowing your equipment and to understand the importance of risk management in making sound equipment investments.
John Deere MY12 8310R row crop tractor with 750 hours

Options: Powershift, standard front axle, standard lights, deluxe cab, 4 rear valves, etc.
Dealer Retail Value: $202,000
Forced Liquidation Value: $141,500
Transmission remanufacture: $23,000
John Deere MY12 8310R row crop tractor with 750 hours

Options: IVT transmission, ILS front axles, HID lights, premium cab, 6 rear valves, etc.
Dealer Retail Value: $245,000
Forced Liquidation Value: $171,500
Transmission remanufacture: $33,500
When you have the complete picture before you buy or sell you put yourself in the best possible position to come out on top and reduce your future exposer to risk.
If you would like more information, have feedback or you are interested in one of our valuable services feel free to give us a call 1-701-793-4005 or fill out a form on our website.