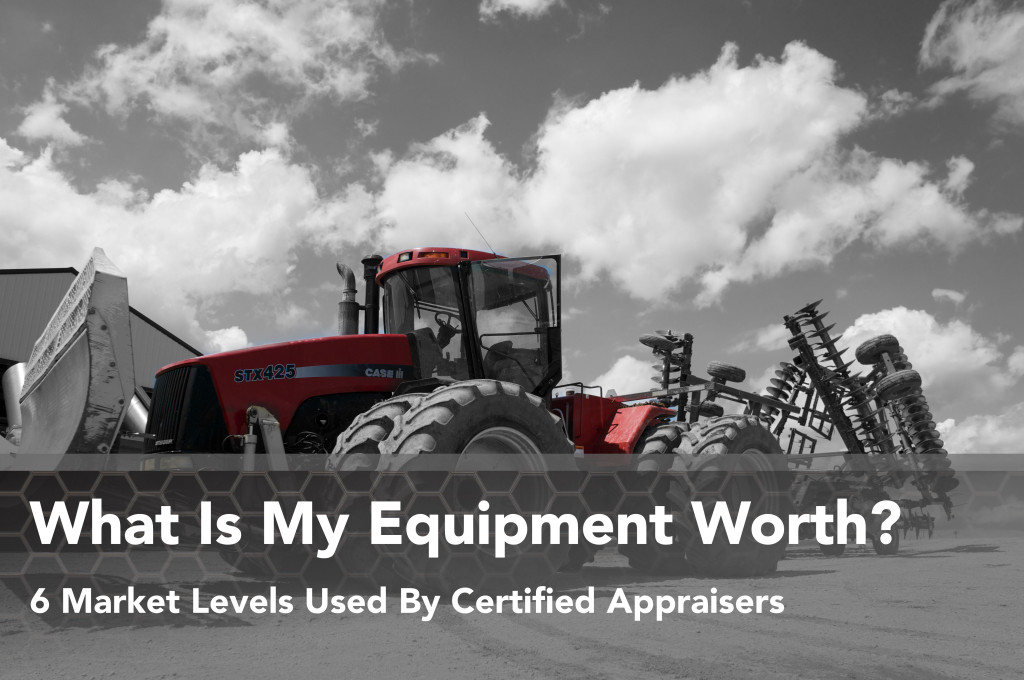 We often get asked this simple question yet the answer is usually complex, and leads to more questions from us. The reasons for performing an appraisal of ag equipment can vary tremendously. Each situation is unique therefor it becomes vary important to treat every situation uniquely.  We at Machinery Scope know how important getting appropriate values for your equipment is, so we listen to every client's situation and tailor the appraisal to meet your goals.There are several market levels of valuation that can be used on a single piece of equipment, choosing the correct level can affect the appraisal.
The following is a list of the 6 market levels:
Retail

The price property typically brings when sold by a dealership.

Orderly Liquidation

The most probable price in terms of cash, or other precisely revealed terms, for which the property changes hands under required and limiting conditions in an orderly manner, generally advertised, with reasonable time constraints, in an appropriate and relevant marketplace, with knowledgeable buyers.

Forced Liquidation

The most possible price, in terms of cash or other precisely revealed terms, for which the property would change hands if sold immediately, without regard to the relevant marketplace.

Wholesale

The market value that represents what people normally pay if they are buying property with the intent to resell it to make a profit.

Salvage

The market level where equipment is sold for its individual, component parts.

Scrap

The market level where machinery is sold for the "per pound" price of its metal.
To demonstrate the concept of multiple levels of value lets look at a 2013 John Deere 9410R. It is one tractor but depending on the goal of the client in need of an appraisal there could easily be a wide range of values to use. This is why you need to listen to the client and provide the market value that fits their need.
Retail = $240,000
Orderly Liquidation = $206,000
Forced Liquidation = $170,000
Wholesale = $192,000
An example of this in work would be Farmer Bob and Farmer Dave are getting to retirement age. They are both looking to pass the farm on to the next generation. They both want to limit their tax liability as much as possible and also want to see the next generation succeed with the farming operation, but have differing views on what they need for their equipment. Farmer Bob wants to pass the equipment on to his son at the lowest price reasonable to limit his tax liability and his sons start up debt. In talking to Farmer Bob we decided a forced liquidation value is the best way to go. Farmer Dave is passing his equipment on to his son-in-law and also wants to limit his tax liability and his son-in-laws start up debt, but feels he needs to get a little bit more for all his hard work to get the farming operation to where it is. He doesn't want top dollar but does not want to give it away either. Through this discussion we decided that the wholesale value on the equipment was right at the level he was striving for.
Another example would be a dissolution of a partnership. The partner that is looking to get out of farming may be looking at retail value to maximize their money. The partner that is left to keep farming is looking at a forced liquidation value because needs to buy out the other partner. When in reality a good value will often end somewhere between the two partners ideas.
What is my equipment worth can be a very loaded question. I hope this provides a little insight as to what goes in to the valuation of equipment and the importance of listening to the client's goals to achieve an appropriate outcome.