A few months back Machinery Scope sponsored a Facebook contest to hear stories about how your tractor or combine failed shortly after it was purchased. We received some amazing stories, and after a long deliberation we chose the below story as our winner.
"I had just bought a used tractor and was driving it home when the front suitcase weights broke off and rolled under the tractor putting a hole in the transmission and multiple other damages to the underside of the tractor, causing a grand total of about $24,000 in damages! As it turned out, the previous owner had broken the weight-mounting bracket and welded the cast iron together before placing all the suitcase weights back on."
 So, there it sat, alongside the road right in front of a neighbor's yard. We had to call a local trucking company to come and we pushed it onto his trailer and he hauled it away to a different dealer to repair. I got it back right after harvest was finished. At least the dealer that sold it to me was "nice" enough to rent me a tractor at full price to get through harvest. Since I drove it off the lot, they wouldn't help me or admit blame. Had they delivered it, it would have been their baby. I haven't been back to that dealership since."
Machinery Scope is proud to present this one of a kind custom carved Challenger MT635B to Monty Wiertzema of Campbell, MN for his winning submission. We hope that this will help ease the pain of having to foot the bill on all of the damage done by the suitcase weights!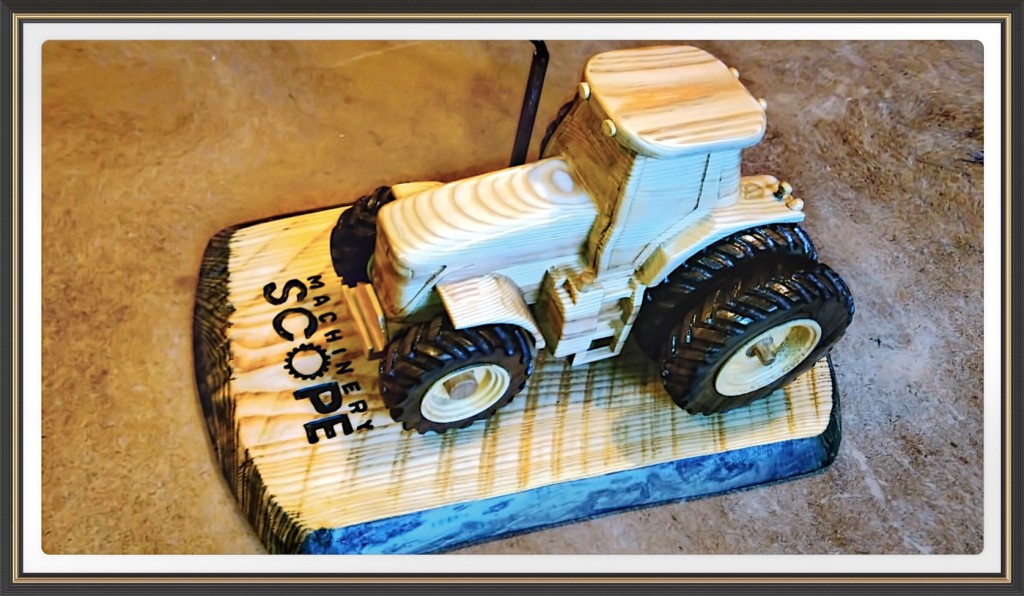 Custom carved tractor artfully crafted by Dave Macho from Glenwood, MN.
This is a good reminder to protect yourself by having an experienced Machinery Scope Service Tech give you an unbiased third party inspection. Our inspectors know what to look for in equipment so it is a powerful risk management tool! On qualifying equipment, Machinery Scope can even provide an Extended Warranty (PPP) on used equipment up to 10 years old and 5,000 engine hours protecting you from costly powertrain and hydraulic failures.